We're a creative bunch here at Caroline Gardner and have an eclectic taste when it comes to art. Here the team share some of their favourites. Who are yours?
Caroline Gardner – Company Founder 
I've followed artist Deborah Tarr for years.  She's an abstract painter who studied at Winchester School of art and her paintings instantly calm my cluttered brain.
www.cadogangallery.com/artist/deborah-tarr
Next is Julia Wilson who has a fantastic ability to turn a landscape into a reduced geometric form, giving  you just enough for an impression of a landscape.    Using on her own palette to give an impression of the colour.
www.modernartbuyer.com/collections/julia-wilson
Angus – Managing Director
I have a few artists I really like, but my clear standout favourite painter is my sister Jessica Gale.
Jessica is a few years younger than me, but if you follow the link above, you will see she is also a much much better painter…
Catching the painting bug when she and her husband moved to Amsterdam around 15 years ago, Jessica really hasn't looked back.  After several years of successful shows around the country, she has just finished filming for an episode of Sky Landscape Artist of the Year 2024 and I am keenly awaiting its broadcast. I am an enthusiastic collector of her work, as well as a super proud brother!
Hannah – Design
One of my favourite artists is Sophie Harding. She is based down in Penzance and works across a range of different mediums from acrylic to screen print. When I came across her work I fell in love with her use of colour!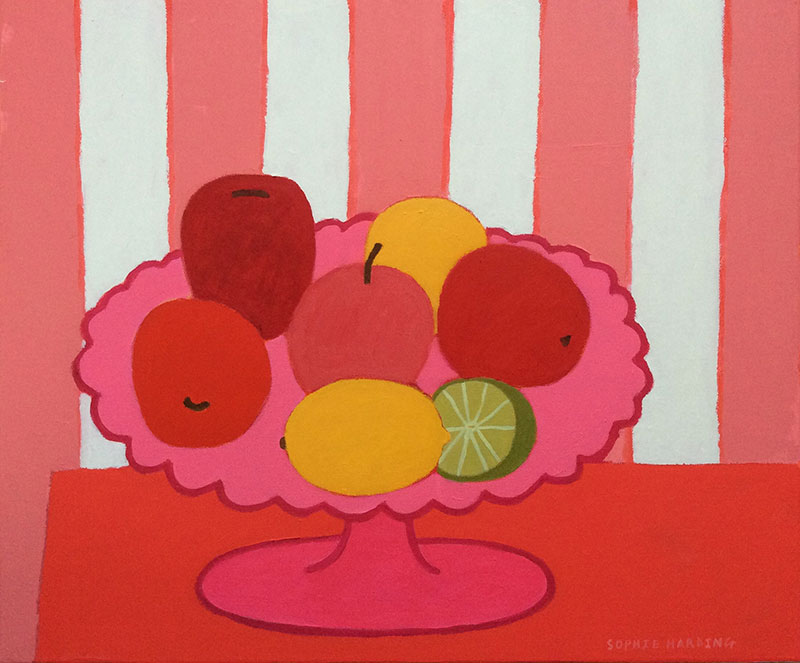 Nicola – Design
My favourite artist is Georgia O'Keeffe. I studied her when I was doing my Art GCSE and fell in love with her style and use of colour. In the Summer after my second year at University studying Fashion Design, I worked as a Costume Designer at a performing arts summer camp in upstate New York. I ended up doing an accidental pilgrimage of Georgia O'Keeffe's life and career, starting in New York as she did, then going to Lake George to buy fabric for the costumes, where she based many of her ground breaking works and paintings in extended summers spent there, and then finally New Mexico when I stayed for a week with the Circus Director from my camp and her family. O'Keeffe made this her home in later life and I was lucky enough to visit her gallery in Santa Fe and see 'Cerro Pedernal' which she referred to as 'her mountain' as it was her favourite to paint.
Kyra – Marketing
I've been following Tommy Gurr for about 5 years now and have a few of his pieces at home.  Hailing from Whitstable I love his stencil murals on everyday traffic signs.  There's a nod to humour there and are definitely a talking point when people come round. This one is my favourite.
Another favourite is James Talon.  I love the colours and again the familiarity of everyday objects that everyone recognises represented in an unusual way.  You can see how music has influenced his work and how a love for pop art and artists like Anthony Warhol is ever present too.   Some of his pieces are a bit close to the mark so I'm going to need reconsider where some of them are indoors when my little ones start to read.
Chloe – Design
These guys I discovered at a print fair just after I graduated and bought 2 of their pieces which I still have up in my flat now….so they were a good buy!
Then I discovered this artist on Instagram who does cute little line drawings with such lovely words and themes. They're called Little Passing Thoughts.
Bella – Sales
I'm a big fan of Sophie Cochevelou's avant-garde art. I love how she mixes playful expression with thought-provoking commentary on modern issues and feminism. Her work is both visually stunning and intellectually engaging. It's accessible to a wide audience, which I believe is really important for artists in 2023. I admire her work for her use of recycled materials in ways that are both creative and environmentally conscious. I love how her costumes are often over-the-top and whimsical but have a deeper meaning. Her prints are available from just £20, and her wearable art can be purchased from around £35 making her work very accessible to a wide audience
Emma  - Commercial
I love Carla Llanos. I found her at random and love her simple prints and great use of colour. I also love that I can afford her prints!
Becky – Commercial
My favourite artist is Tony Nsofor,  he is a Nigerian painter and we have 2 of his pieces.
I love the pieces we have as every time you look you see something new. They are always a talking point to anyone who visits, and everyone has their own ideas of what they see.
Nsofor's paintings consist in the deconstruction of forms in an attempt to exfoliate the inner essence of the human person. A highly adventurous and experimental artist, Nsofor lives and works in Lagos.
www.artsy.net/artist/anthony-nsofor-1
Mel – Design
So many come to mind… but if I could have 1 from home (Australia) and 1 from London on my desert island…
Eleanor Voterakis  - Australia. Based in Melbourne, Eleanor is a Greek Australian artist and art educator at NGV.
We also grew up together so I'm a big fan! Her drawings are often unusual or dreamlike impressions of familiar objects.
Meticulous attention to details and seeing how she can draw out the personality of everyday objects that are perhaps otherwise forgotten. I feel very lucky to have one of them framed and up in my flat here in London.
Joseph Goody - London
I love his colour driven work, large scale abstract, geometric shapes, often using watercolours, oil on linen, collage, woodcut prints. What interests me is his use of tools to make the marks he makes.
Avoiding using only brushes - instead different objects from around his studio.
Bits of Perspex, wooden off cuts etc….
Clio – Buying
I love the work of Nina Brooke. She is an ariel landscape artist, I grew up in Cornwall with her. Her paintings evoke such strong memories of being by the sea down there, I just love them.
---