Halloween recipes the whole family will love
Halloween has been gaining immense popularity over the years, evolving from a simple costume and trick-or-treat event to a grand celebration with themed parties, decorations, and especially, delicious Halloween-inspired recipes.
We've asked our foodie favourite, Dom in the Kitchen, to share his must haves whether it's baking with the kids or hosting a dinner with a Halloween touch here are a few fun Halloween-inspired recipes for the whole family to relish.
First up  - the Upside Down Zombie Mummy Heads (of course!)
RECIPE!!
1 sheet ready-rolled puff pastry
Olives - cut into rings
Stuffed baby peppers - cut in half
3 sausages - mashed up
2 teaspoons cranberry jelly
Olive oil
Salt and pepper
1 beaten egg
You will need a large baking sheet.  Line the sheet with baking paper.
Pre-heat your oven to 160C / 320F
Place your sausages in a bowl and mash them a little with a fork. Add the cranberry jelly and mix together slightly. You want bits of red oozing through.
Cut your olives into slices and push one slice into the mini stuffed pepper so it looks like an eyeball surrounded by red.
 Drizzle a little olive oil all over the baking sheet then season the oil with salt and pepper.
 Roll out your pastry sheet and slice off roughly 6 long strips of puff pastry - these will be the bandages.
 Lay these haphazardly onto the baking sheet, then place the olive eyeballs between the strips in three places.
 Cut the rest of the pastry into rectangular pieces and slather each one with the sausage mix (zombie flesh.) Lay the pastry rectangles flesh side down onto the bandages. Fork the edges and score the top. Cut away any excess bandage.
 Brush with egg wash and bake for 35 mins until the top is wonderfully puffed and golden.
 Remove from oven and slide a spatula underneath to flip them over. 
Next up, the winter warmer Spooky Soup.  This green gunge spooky soup is actually a divine pea, courgette and chilli soup with a coconut stock that is so completely the opposite of spooky it will be quite the delicious surprise when you tuck in. But then I guess that's what makes this soup so perfect for Halloween!
Add some butter and olive oil to a warm pan and add the onion and celery. Gently sauté for about 5 mins until the onion begins to soften.
Stir in the salt and chilli flakes, then add the courgette and the peas and stir well.  Let all the veg gently sauté for another 5 mins, then pour on the stock.  Bring it to the boil then turn it down to simmer for 10 mins.  Then add the coconut milk and let the whole thing simmer for another 5 mins.
Turn off the heat and let the soup sit until it cools by half, then blend until smooth.  I use a stick blender for this.
Serve with some air-fried chilli croutons and some of the pumpkin seeds.
I've used 2 edible mini pumpkins to serve mine but they can be served in regular bowls. Remember that you can freeze the pumpkins after use. Just wash them and dry them well, then wrap tightly in clingfilm.  They'll be perfect to use next year.
Finally, these Halloween Spider cupcakes are going to be a hit with the kids so get creating...
I adore Halloween but anyone who knows me will know that I am not a fancy cake-baking or cake decorating kind of guy.  Whilst I'm happy to bung a few ingredients into a bowl and whizz it into a cake, that's about as far as I'll go.  I just don't have the will-power, stamina, steady hand or quite frankly the patience to produce those amazingly intricate designs you see on social media. Which is why these halloween spider monster cupcakes are the perfect simple cupcake for my skill-levels!
KEEP IT SIMPLE
To keep it simple and 'user-friendly' (read – good for any lazy, shaky-handed fool) I'm using decorating items readily available at your local corner shop or supermarket.  There's also no icing bags or fancy footwork, it's all very much the most basic of cupcake decorating but I think delivers in spades.
I love how each cupcake seems to have it's own individual character and personality.  Some seem cute and friendly, others you wouldn't want to meet in a dark corner, late at night.  It's amazing how the slight of hand when placing eyeballs can make such a difference.  There is a LOT of fun to be had here!
I'm using a classic cupcake recipe because quite frankly it's the best one I've used and you can't improve on such greatness. I'm also doing the 'all-in-one' method as it's just so simple and anyone can do it.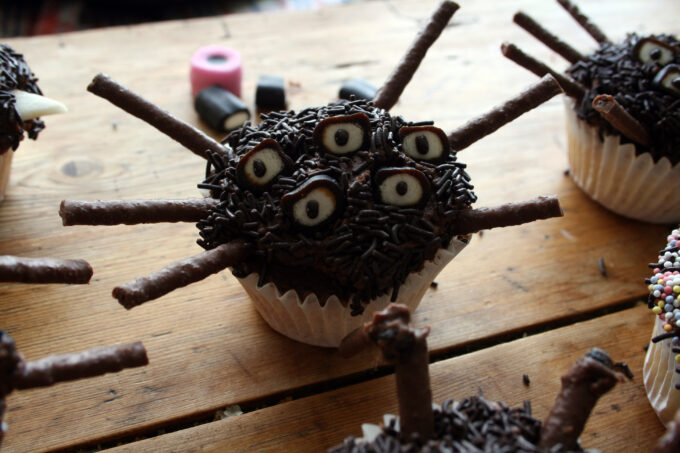 for the vanilla cupcakes (makes 12 cupcakes)
175g butter – very soft and cut into pieces
175g caster sugar
1/2 teaspoon

 

little pod real vanilla paste
175g self-raising flour
1/2 teaspoon baking powder
3 large fee-range eggs
a little splash of milk
for the chocolate icing
250g butter – very soft and cut into pieces
450g icing sugar
1/2 teaspoon little pod real vanilla paste
3 tablespoons cocoa powder
for decorating (all items available from your local supermarket)
chocolate matchsticks
liquorice allsorts
chocolate sprinkles
rainbow sprinkles
Pre-heat the oven to 170C
You will need a 12 hole deep cupcake tray plus 12 cupcake cases, a large bowl and an electric hand whisk. You could do this in a stand mixer with the whisk attachment or simply a wooden spoon.  Whichever method you go for, ensure your butter is super-soft.
MAKE THE CUPCAKES
Start with the cupcake batter.  Place all the ingredients into a large bowl and whisk until you have a smooth batter.  Sometimes adding a splash or two of milk can help loosen the batter.  You want it to drop easily off the spoon.
Divide the batter up into the cupcake cases.  It should be roughly a tablespoon and a half in each case.
Bake for 20 mins or until the cupcake are risen and golden and a skewer inserted comes out clean.  Leave to cool on a wire rack.
To make the icing, place the butter and half the icing sugar into a large bowl and bring together with a wooden spoon, add a splash of milk and the vanilla, then use an electric hand whisk to bring it together.  Add the rest of sugar and the cocoa powder and whisk until it's smooth.
START TO BUILD THE MONSTER!
To build the spider monsters, start by smothering the cupcake tops in icing.  I use a butter knife and am quite generous.  You don't have to be neat here as they're about to be covered in sprinkles.
Place the sprinkles into a bowl, then dunk the iced cupcakes into the sprinkles and rotate them in the bowl so that the tops are completely covered.
Use the matchmakers for legs and the liquorice tubes sliced into eyeballs.  I also used other bits of the Allsorts to make teeth and goofy eyes.  Have fun with it and don't forget, there are no rules.  Monsters can be as ugly, freakish or bonkers as you want them to be!
Don't forget to tag as and @dominthekitchen in your photos on socials!
---